Volume 6 – September 12, 2004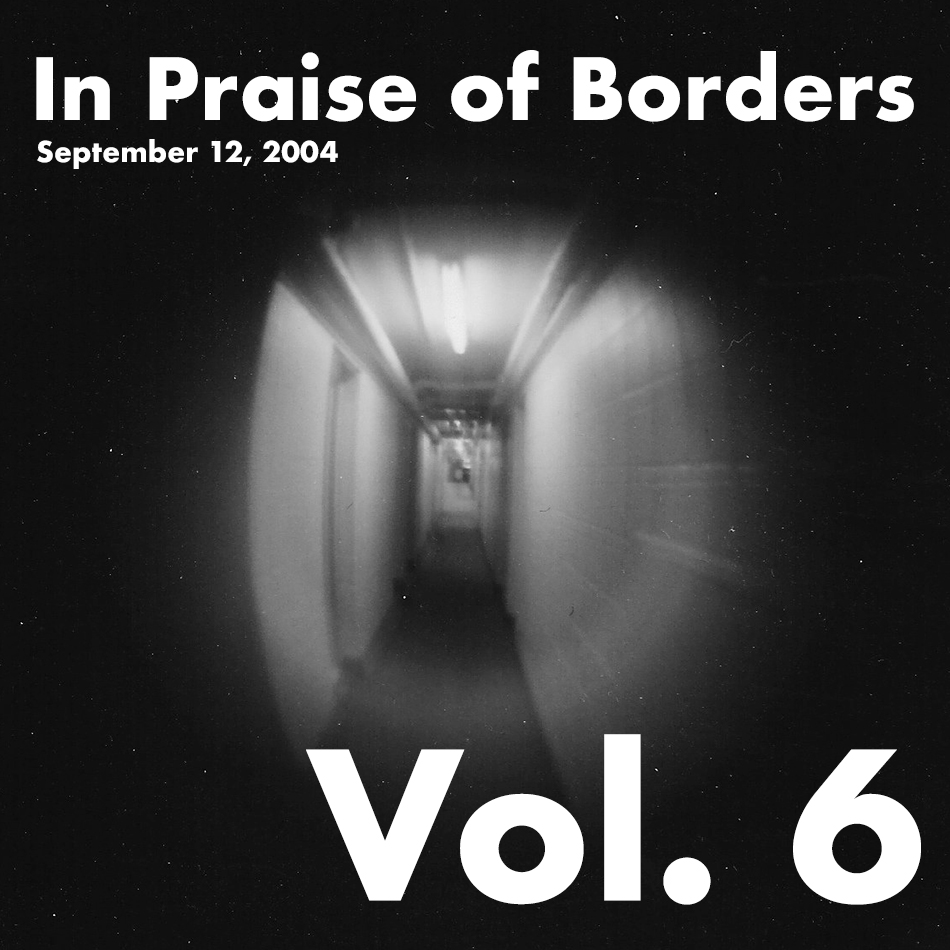 Ceci n'est pas une chanson – Schattenmusik [1:30]
July Simultaneously (September Offset Mix by Iapga) – kschzt [5:23]
Pendulum – Broadcast [4:21]
Be hind – Noon [2:53]
Saturday Night Worldcup Fieber – Mouse on Mars [4:23]
Woman Friend – Chromeo [3:46]
Bongo Bong – Manu Chao [4:43]
Bathtime in Clerkenwell – The Real Tuesday Weld [2:51]
Love Will Tear Us Apart – Nouvelle Vague [3:18]
Daglari Deldim – Özlem Tekin [3:01]
Mass Riff – Stereolab [4:26]
Complex – elektronaut [3:05]
Are You Awake? – Kevin Shields [1:35]
Liner Notes:
From time to time you'll see a song show up on more than one set list. At least once this was because I forgot I'd already played it, but sometimes it was because it was a super short atmospheric piece that filled in a time gap really well, and other times it's because my set list was too long on in an earlier week and I didn't get to it. The problem with my records is that I don't know for sure which weeks are which. At any rate, "Ceci n'est past une chanson" shows up on set lists more than any other repeated track.
kschzt is from Helsinki and was somehow involved with elektronaut (who I'm still in touch with), but beyond that I don't know anything else about them, and this is the only song of theirs I've ever heard. I didn't play as much Noon on the show as I should have. Recommended to me by a friend in Poland, Bleak Output, Vision (with DJ Twister), and the Gry Studyne EP are all fantastic. I had no idea until recently that Broadcast were English; in 2004/5 I somehow had it in my head that they were Dutch (until recently I also thought Add N to (X) were Dutch as well). Mouse on Mars alternates between fascinating and boring, and I think I liked "Saturday Night Worldcup Fieber" because it sounds like it was made in AcidPro. The Real Tuesday Weld, or at least what I've heard of them, are sort like what the Dresden Dolls would have been if they'd bought a synthesizer and retired from the Theatre Goth lifestyle. Stereolab are sort of obligatory on a show like this, and so is Özlem Tekin, although she's more fun. Nouvelle Vague is one of the best groups I discovered while doing this show. A group of jazz/bossa nova chanteuses doing covers of aggressive English punk songs shouldn't work at all, but it's amazing. Truly a delight. The kid606 on this week's list is one of best tracks from Down with the Scene, and one of the few of the good ones that could be played on the radio. Don't be discouraged by its opening bars. And then there's Manu Chao. I don't even know what to tell you about him; he's just kind of absurd. He sings in a million languages and has a real busker vibe going on, complete with the bright colours and the Earth Daddy philosophy. He's very much that guy, and fits too squarely into the kind of World Music scene I'd been hoping to avoid, but his songs can be a lot of fun.
The photo for this album cover is the view out the peephole in the door of my first-year dorm room.