Volume 5 – September 5, 2004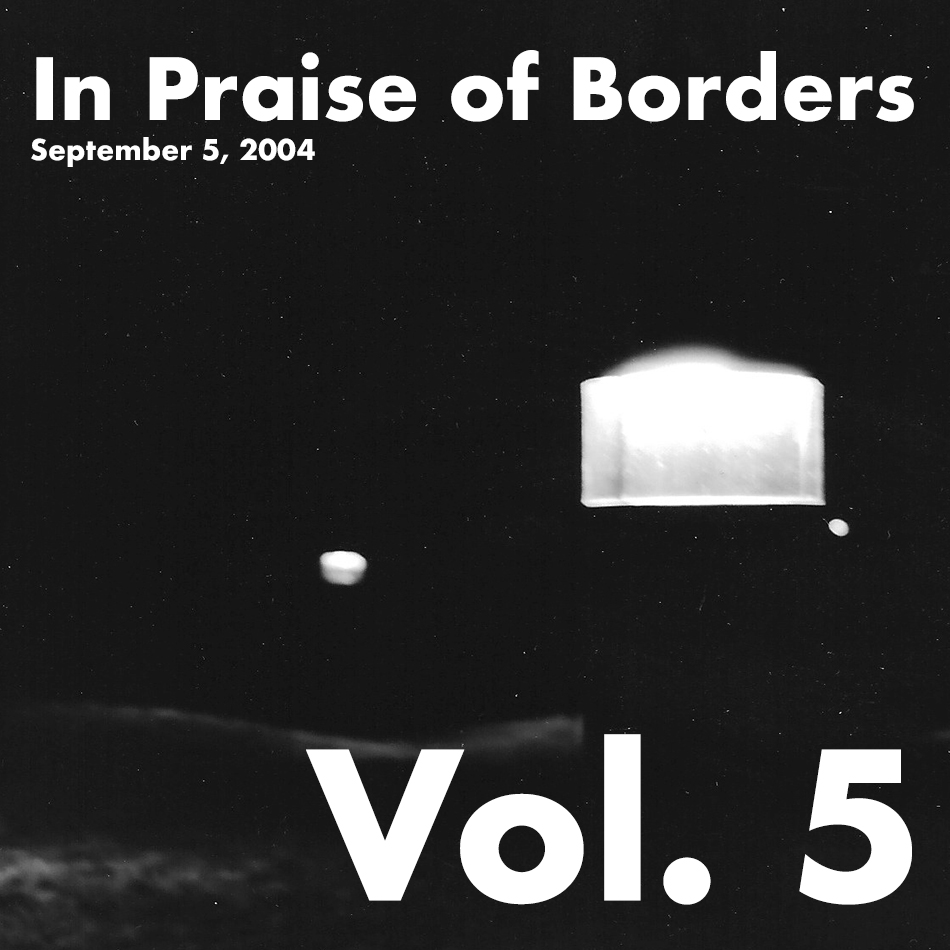 Armagideon Time (Live) – The Clash [5:05]
Break-Out Town – Tokyo Sex Destruction [2:19]
Helter Skelter – The Beatles [4:30]
DMT Blues – The Alchemysts [15:25]
Fire/Sign – The Gossip [2:32]
Panther Dash – The Go! Team [2:46]
Return to the Ship – Tangiers [2:35]
Introduce the Metric System in Time – The Hives [2:06]
Take the Long Road and Walk It – The Music [4:55]
Right Place, Wrong Time – The Jon Spencer Blues Explosion [3:17]
Capitalism Plus Dope Equal Genocide – Tokyo Sex Destruction [2:19]
No Love Lost – Joy Division [3:43]
Liner Notes:
This is one of my favourite and most successful set lists, even if it's still just a hair too long for a show that only lasts an hour. Originally it wasn't even intended for my show. One of the guys from the Townehouse, a local bar/live music venue, had a very popular show at noon, playing old school punk and rock music. He opened every single show with a song by The Clash. He was going to be away one week and I was going to cover for him. Except I thought his show was at midnight, and when I showed up at the station in the middle of the afternoon to put the finishing touches on my set list I got a super frosty reception (much deserved). This set list was what I had planned to play for that guest spot.
Tokyo Sex Destruction are a fantastic punk group from Spain, and I played them on the show as much as I could, even though all I had was an incomplete copy of their debut album, Le Red Soul Comunnitte. The whole album feels like a live experience, and one of my favourite things about it is that their singer starts talking to the audience in English sometimes, giving lectures about housing policy and income inequality, and while his passion is just visceral, his English is horrendous. The thing is, it still really works. You want to raise your fist with him instead of laughing. Tangiers' 2003 album Hot New Spirits was making the rounds at the station in the summer of 2004, and it was one of the few popular albums that I connected with, so I played a few tracks from it over the life of the show. I still can't figure out how the drummer from The Hives is so fast. "Panther Dash" isn't even remotely the best Go! Team track from Thunder, Lightning, Strike, but it worked well here (at the time I had this weird notion that the band was Swedish, but they're actually from England). "Helter Skelter" is really just in here because I had some weird notion of continuity, and I can't have a punk playlist without JSBX, my favourite band back in the day, even though this was just a Dr. John cover they did for the Scream 2 soundtrack. "No Love Lost" is my favourite Joy Division cut even though it's fucking creepy. If I had it to do over again I'd probably play "Failures" instead. "DMT Blues" is really the odd song out on this set list. Not only is it absurdly long, it's got much more of an acid-washed classic rock thing going on, more "Dazed and Confused" than "Anarchy in the UK." I don't know anything about The Music except that this is the only song of theirs I enjoy and the video for it sucks.
The photo for this album cover is also one the photos I've taken that I like the most. To me it's always looked like towers, but it's the light posts along the front walkway to the daycare in Dryden, at night in winter. They're about two feet high.